Fukushima Robot Test Field
Fukushima Robot Test Field(RTF), developed based on Fukushima Innovation Coast Framework, is one of the largest research and development bases in the world.
At this research base, verification test, performance evaluation and operation training can be carried out while reproducing the actual operating conditions, mainly for ground, maritime, underwater and aerial robots that are expected to be utilized for logistic, infrastructure inspection and large-scale disaster.
RTF was opened in March 2020. It has two sites, i.e. Minamisoma site and Namie site. Minamisoma site has unmanned aircraft facilities, infrastructure inspection and disaster response robot facilities, underwater and maritime robot facilities, and development base facilities, within the reconstruction industrial park in Minamisoma City.
The size of the site is approx. 1000 m from east to west and approx. 500 m from north to south.Namie site has a runway and a hanger in Namie Town Tanashio industrial park.
Long distance flight tests can be conducted between Minamisoma site and Namie site. In 2021, the competition of infrastructure and disaster response of the World Robot Summit will be held at this base.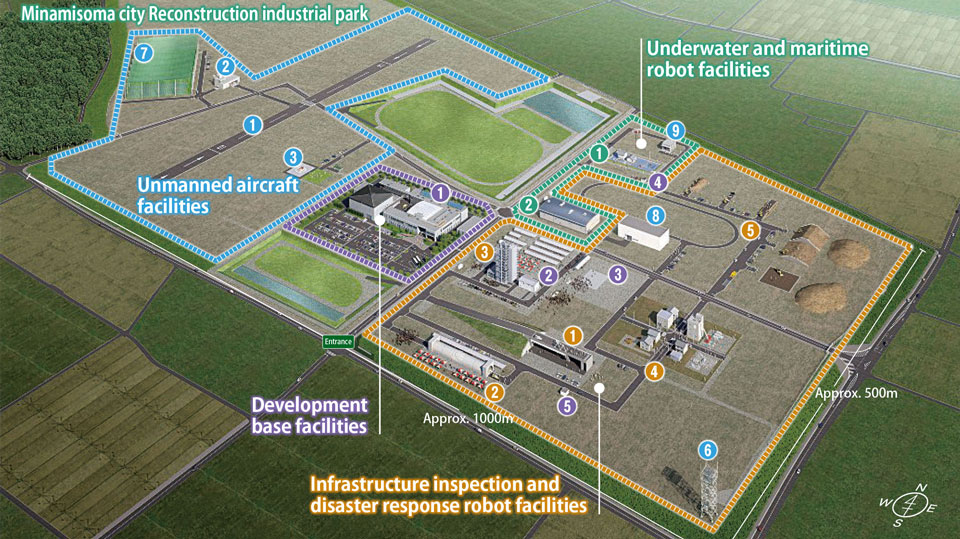 Fukushima Innovation Coast Framework
The Fukushima Innovation Coast Framework is aiming to restore industries in the coastal region of Fukushima which were lost due to the Great east Japan Earthquake and nuclear disaster. It also incorporates a national project which seeks to build a new industrial base in the region.
Under the framework, we are working on industrial clustering, human resource development, and expansion of migrant population dynamics, as well as promoting the implementation of projects such as relating to nuclear reactor decommissioning, robotics, energy development, agriculture, forestry, and fisheries industries.