Minister Koizumi joins, the sixth Exchange Meeting of High School Students in Futaba County held online
On Thursday, 4 August, the sixth exchange meeting of junior and senior high school students in Futaba County "FUTABA 1DAY SUMMER SCHOOL" was held online, connecting lecturers and each school via a video conferencing system (ZOOM).
This exchange meeting was previously held five times as an opportunity for junior and senior high school students in eight towns and villages in Futaba County to meet and interact. The meeting was cancelled last year due to the Covid-19 pandemic, but it was held online this year. 
This year's meeting was again overseen by Mr. Yasushi Akimoto, a member of the Futaba School Project. Ms. Mariko Hayashi (author) and Mr. Shinjiro Koizumi (Minister of the Environment & Minister of State for Nuclear Emergency Preparedness) participated in the meeting as lecturers.
The theme of the lesson was "Don't be afraid of making mistakes." Ms. Hayashi and Mr. Koizumi shared their own stories of past failures to communicate the importance of taking on challenges without fear of failure.
The students asked many direct questions to Ms. Hayashi and Mr. Koizumi, such as, "What was the most difficult thing in studying to become a politician?", "How can you summon up the courage to try again after you try and fail?", "What is the secret of being yourself?" and "Are you glad that you were born as your father (former prime minister)'s child?"  
The students seemed to be engaged with a wide range of thoughts related to the experience, and made comments such as "I was surprised to learn that other schools' students think about those things," and "They have same concerns as me."  
After the lesson, on behalf of the students, a student from the Tomioka School of Tomioka First and Second Junior High Schools delivered a thank-you address.
He conveyed a strong message, saying, "I was able to spend an enjoyable time. Today I learned that there are many people who are making efforts in circumstances similar to my own. This has really encouraged me to continue to work hard in a positive manner."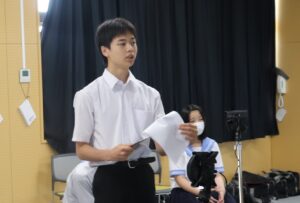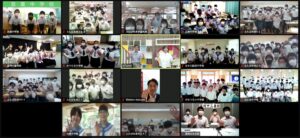 Group photo on the screen
The number of participating students totaled more than 300! Taking advantage of the strength of the online format, this year's meeting was livestreamed on YouTube. In addition to the junior and senior high school students in Futaba County, other junior and senior high school students, parents, and other people in the prefecture and elsewhere participated in the meeting.
We hope that this meeting will be a wonderful summer vacation memory for the students!
Special thanks: In holding the meeting online, we received a large amount of cooperation from Yahoo Japan Corporation. We really appreciate it!
Note: This exchange meeting is planned and operated by an executive committee composed of the teaching staff of schools in Futaba County. It is held as an initiative to develop ties through education, which is set in the "Futaba County Education and Revitalization Vision," for the purpose of connecting people beyond the boundaries of towns and villages and generations.