[Industrial Clusters] Support for Attracting Companies
Many companies have moved into the Hama-dori region and nearby areas.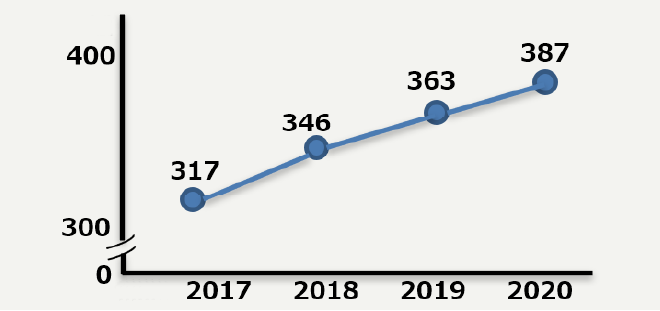 Since the Great East Japan Earthquake, 387 companies have located themselves in the 15 municipalities covered by the Fukushima Innovation Coast Framework. (As of February 2021; Source: Fukushima Pref.)
Seminars, etc.




Holding company location seminars

Company Location Seminar in Tokyo

(Venue: Otemachi PLACE, Date: November 24, 2020)

・In-person participation: 83 persons

・Remote participation: 47 persons




Promotion videos

Releasing promotion videos

・Industrial parks within the 15 individual municipalities

Offering local information

・Group site tours
・Customized site tours

Conclusion of location agreements, utilization of subsidies, etc.



Concluded in June 2019

Toyotsu Lithium Corporation (Head Office: Fukushima Pref.) × Naraha Town

Toyotsu Lithium is a joint venture between Toyota Tsusho Corporation and Orocobre Limited in Australia. It produces lithium hydroxide, a material used to make on-board batteries, etc. [Scheduled to start business in 2021]




Concluded in October 2019

ASANONENSHI CO., LTD. (Head Office: Gifu Pref.) × Futaba Town

The company is launching a new superabsorbent towel brand called "SUPER ZERO Futaba" and is aiming for a production volume that is more than double that of the headquarters plant. [Scheduled to start operation in July 2022]




Concluded in January 2020

IRIS PRODUCT Inc. (Head Office: Miyagi Pref.) × Minamisoma City

The company plans to construct an integrated plant for producing artificial turf, a deoxygenating agent, architectural flat panels and corrugated sheet, etc. [Scheduled to start operation in March 2022]




Concluded in October 2020

MIYATAUNYU Co., Ltd. (Head Office: Osaka Pref.) × Tomioka Town

The company is establishing a logistics and transportation base that is expected to contribute to improving the logistics environment of Futaba-gun as a whole.
[Scheduled to start business in 2021]




Concluded in December 2020

Fuji Computer Co., Ltd. (Head Office: Hyogo Pref.) × Namie Town

The company manufactures AI communication robots, for which R&D was carried out at the research building of the Fukushima Robot Test Field in Minamisoma City & Namie Town. [Started operation in May 2021]