Relocation Support Center Director Fujisawa participates in Fukushima governor's round-table discussion with Premier Kishida and people moved in the Coastal Region
On Sunday, 17 October, a round-table discussion meeting with returnees and people who have relocated in the Coastal Region of Fukushima was held in Tomioka Town.
The Governor of Fukushima Prefecture served as the facilitator, and participants included Prime Minister Kishida, the town mayor of Tomioka, returnees and people who have relocated and are supporting the reconstruction and revitalization of the Coastal Region to increase its appeal. They talked about why they decided to return to or relocate to the Coastal Region and for what purpose they are currently engaged in the support activities.
Director Fujisawa of the Fukushima 12-Municipality Relocation Support Center introduced the prefecture's relocation subsidy, as well as a relocation seminar to be organized by the Center on 29 October, and other initiatives such as subsidies including transportation expenses.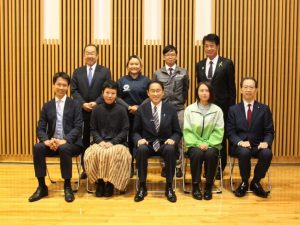 Round-table discussion meeting with returnees and people who have relocated in the Coastal Region